Terms & Conditions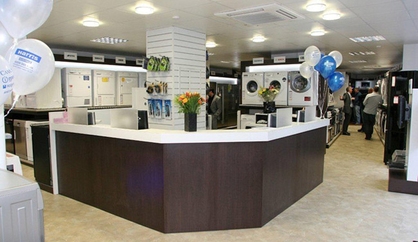 Harris Electrical
This page (together with the documents referred to on it) sets out the terms and conditions on which we supply the product(s) listed on our website. Please read these terms and conditions carefully before ordering any product(s). By ordering any product(s), you agree to be bound by these terms and conditions.
Delivery Timescales.
Harris Electrical will deliver all purchased goods within a window of 7 days. Harris Electrical will contact all customers immediately after a sale has been made to confirm the delivery details.
Click & Collect
Click & Collect is available on selected products from our main store. Harris Electrical will email you when your order is ready for collection. Harris Electrical will hold your order for 5 days. If your order is not collected within this time your order will be refunded by Harris Electrical. Please be aware that a restocking fee of £0.00 will apply.
When collecting your order from our main store you must bring a form of identification with you; the payment card used for the order or a current photographic drivers license or passport. Without a form of ID we are unable to release your order.
Information About Us
https://www.harriselectricalltd.co.uk (this site) is operated by Harris Electrical. Harris Electrical is registered in the U.K. and we trade from 62-64 Lower Clapton Road London London E5 0RN. Harris Electrical's VAT number is 220641116.
Installation
We offer an installation service for most of the products we sell, but we won't be able to connect your new items if:
Any electrical/plumbing supplies needed fail the delivery team's testing or are unsuitable.
Any water supply needed cannot be isolated or is unsuitable.
Any drainage/waste facilities needed are unusable.
Mechanical adjustments are required to the item(s) to overcome such things as water pressure etc. Alterations to existing plumbing and electrical are required.
The appliance doesn't properly fit into the space you've made available.
Please note that if we're unable to complete an installation because the area isn't suitable charges may apply.
If you're making use of a connection/installation service and haven't opted for our disconnection service, please disconnect the appliance before we arrive.
In the event of a Laundry/Dishwashing Connection we do not hold liability for any leaks that may occur after 7 days of installation. In the occasion of a leak (within 7 days) a site attendance will be carried out to check the fault. If the site's plumbing is faulty, we do not accept liability for any damages caused by the leak.
We always advise that customers check there plumbing for any leaks (especially plastic plumbing) for 2-4 weeks after fitting as combustion can build in the pipes.
Service Availability
This site is only intended for use by, and orders will only be accepted from, residents of the United Kingdom of Great Britain and Northern Ireland. We cannot commit that product(s) supplied are suitable for use in any other regions.
Placement & Processing of Orders
If you wish to buy product(s) through this site then you should follow the procedure specified in this site.
After placing an order, and once payment has been authorised, you will receive a sales confirmation via email acknowledging that your order has been received by Harris Electrical.
Acceptance of your order will be made which confirms that the product(s) you have ordered are available for delivery
The contract between you and Harris Electrical will only be formed when a sale confirmation is sent to you and payment has been received.
Harris Electrical will confirm that your chosen product will be delivered on certain date and request that this is acceptable.
Cancellation
If you wish to cancel your order, this will need to be done by 12pm the working day prior to your delivery date (Mon-Fri), or delivery will be made. Any returns after this time will be liable for a collection charge.
You will be informed as soon as possible if for any reason product(s) ordered by you are not available for supply. Where you have already paid for the product(s), you will then be issued with a full refund or an alternative product.
Consumer Rights
If you are ordering product(s) as a consumer you may cancel the contract at any time within a fourteen working day "cooling-off"e; period, beginning on the day after the day you receive the product(s) (the required post contractual information will be supplied in an email confirming your delivery).
To cancel a Contract, you must inform Harris Electrical. You will then be contacted to agree a method for returning the product(s). Product(s) must be returned in the same condition in which you received them. If you return product(s) in person or send them they will be at your risk until they are received by us. You have a legal obligation to take reasonable care of the product(s) while they are in your possession. If you fail to comply with this obligation, we may have a right of action against you for compensation. We may also charge you a reasonable sum as reimbursement for any missing items such as leads or remote controls.
If you need to return product(s) because you are a consumer and have cancelled the contract within the fourteen working day cooling-off period, you will be responsible for the cost of returning product(s) to us or, where applicable, of us collecting them from you.
Upon receipt of the product, we will refund the price of the product(s) in full, including any initial delivery charges, less the cost(s) we incur in collecting the product, and replacing any missing item(s) or accessories. We will process the refund due to you as soon as possible and, in any case, within thirty days of the day we take receipt of the product(s).
If you are returning product(s) that are faulty, you will not be responsible for any collection costs. You will need to contact Harris Electrical and we will initially look at resolving the issue. If this is not an issue that we can resolve, and the product is less than 28 days old, then the product can be returned, at our cost, and you will receive a full refund. However, if any accessories are missing, the cost of these will be deducted from your refund.
Details of this statutory right, and an explanation of how to exercise it, are also provided in the sale confirmation. This provision does not affect your statutory rights.
Price
The price of any product(s) will be as quoted on this site from time to time, except in cases of obvious error. These prices include VAT but exclude delivery costs and any other additional services you may have opted for e.g. installation, old product disposal etc.
Prices are liable to change at any time, but changes will not affect orders that are the subject of a sale confirmation.
This site contains a large number of product(s) and it is always possible that, despite our best efforts, some of the product(s) listed may be incorrectly priced. Prices will normally be verified as part of the dispatch procedures so that, where the correct price is less than the stated price, you will be charged the lower amount. If the correct price is higher than the stated price, you will be contacted for instructions before dispatching the product(s) and you may then cancel your order if you wish. If you do not cancel your order the product(s) will be supplied at the higher price. We are under no obligation to provide product(s) to you at the incorrect (lower) price, even after we have sent you a sale confirmation, if the pricing error is obvious and unmistakable and could have reasonably been recognised by you as a mis-pricing.
Payment
All payments must be in UK Pounds Sterling.